Description
The Concept range of cold water tank lagging jackets consist of lengths light weight glass wool insulation that has been completely enclosed in black perforated polythene.
Purpose
Cold water tank lagging jackets are designed to help protect cold water storage tanks in traditional domestic lofts against freezing.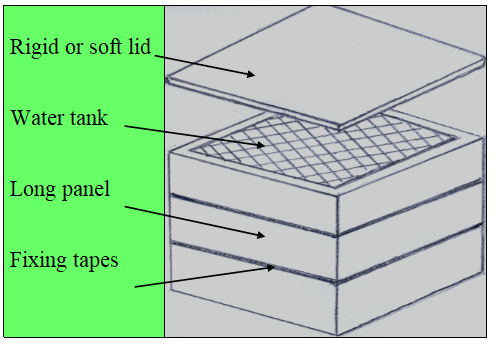 Dimensions
The range of lagging jackets are manufactured in sizes to suit the tank sizes detailed in the chart below. The lagging jackets are supplied with or without a rigid lid insert. Lagging jackets to suit bespoke tanks are available on request.
Rectangular Tanks
 10/4
20/15
30/20
40/25
60/40
70/50
Tank Size
18 x 12 x 12
26 x 21 x 17
27 x 21 x 20
29 x 23 x 21
40 x 25 x 24
46 x 25 x 24
L x W x H (inches)
Standards and Performance
Concept cold water tank lagging jackets are designed to aid compliance with Water Byelaw 30 which calls for cisterns storing water for domestic purposes to be insulated against heat and frost.
Installation
Concept tank lagging jackets are supplied in two pieces with separate fixing tapes.
Unroll the long flexible panel and shake gently to allow the insulation filling to recover.
Position the panel around the body of the tank, allowing for pipes and fittings, and secure with the coloured fixing tapes as illustrated. Be careful not to over tighten so the insulation is not compressed.
Place the lid panel on to the tank lid and tuck in the flanges carefully, ensuring there are no gaps around the edge of the tank.
Specification
The Concept range of cold water tank lagging jackets are manufactured using a low density, flexible, glass wool insulation that is manufactured to BS3533:1981 The insulation is non combustible,
classified as Euroclass A1 to BS EN ISO 13501-1. The thermal conductivity is 0.040 W/mK.
The outer covering is manufactured from 38 micron, micro perforated black polythene film which encourages good recovery of the insulation from any compression that may have occurred during packaging and transportation.
Each jacket is individually wrapped and comes complete with two lengths of nylon ribbon and a label clearly displaying the tank size and easy to follow fitting instructions.