Trapezoidal Acoustic Infill
Description
Concept Acoustic Infills consist of rigid slabs of non-combustible mineral wool that have been factory cut to suit the upper profile of structural metal roof decks.
Purpose
Concept Acoustic Infills are designed to prevent reverberation and improve the acoustic environment in buildings with large areas of hard internal surfaces such as leisure centers, school sports halls and swimming pools.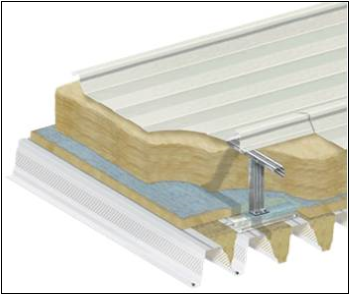 ACOUSTIC INFILL LINING PERFORATED STRUCTURAL ROOF DECK
Dimensions
Concept Acoustic Infills are normally supplied 1200mm long and are factory cut to fit the relevant roof profile. Shorter lengths are available on request.
The product can be supplied un-faced although where it is used with perforated metal decks, it is normally faced on the lower three sides with black or white glass tissue. Alternatively it can be faced on all four sides to further decrease the risk of fibre migration.
Density
Concept Acoustic Infills are available in the following grades :
Light – 45kg density mineral wool core
Standard – 60kg density mineral wool core
Heavy – 80kg density mineral wool core
Fire Rated – 100kg density mineral wool core
Standards and Performance
The mineral wool slabs used in the production of Concept Acoustic Infills are non-combustible to BS476: part 4: (1984).
The use of Concept Acoustic Infills can contribute towards the satisfaction of a requirement for a ceiling with Class C acoustic absorption. See Approved Document E and Building Bulletin 93 (The Acoustic Design of Schools) for guidance.
Handling and Installation
Concept Acoustic Infills are normally supplied on polyethylene wrapped pallets. Protective weather hoods are included where requested.
The Infills are installed directly into the upper trough of the profiled roofing sheet. All joints should be tightly butted and, where necessary, lengths can be trimmed using a sharp knife or a finely serrated saw.